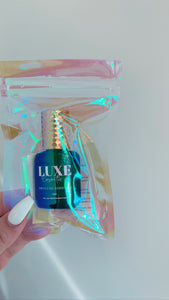 10ML BOTTLE
Perfect for both classic & volume lash application. For advanced technicians - 0.5 second drying time!

Ideal for use with the LUXE Prep & Prime to maximise retention.
Humidity Range: 40% - 70%
Temperature Range: 15 – 25 Degrees Celsius
5+ Week Retention or until end of lash cycle
0.5 second setting time
Shelf life: 4-5 months or 1 month once opened


Store in the refrigerator unopened.
Store in a cool/dry place once opened, away from direct sunlight.
Avoid direct contact with eyes and skin.
Keep cap tightly closed when not in use.
Keep out of reach from children.